Key Points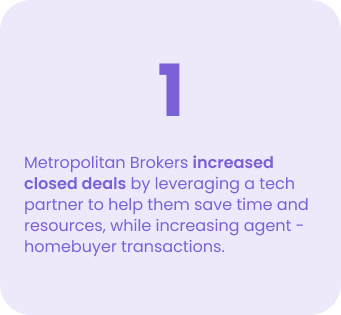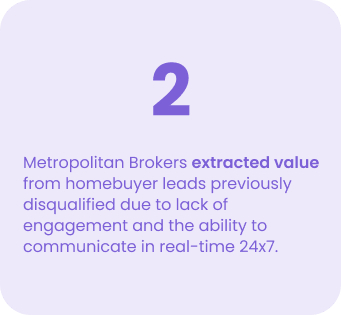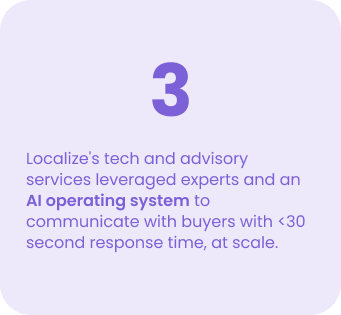 Opportunity
Metropolitan Brokers purchases homebuyer leads on a regular basis. According to the National Association of REALTORS®, these leads convert at a rate of 0.5%.
The brokerage agents tried to engage these prospects. In one case, about 6,500 two-month-old leads (median age) were about to be discarded due to buyers being unresponsive or not ready to move forward.
The brokerage partnered with Localize to activate human + AI technology and advisory services to engage their leads to help bring them through the funnel.
Problem
Metropolitan Brokers was searching for a solution to engage their homebuyer leads faster, and at scale, to save time, eliminate repetitive qualifying tasks, and increase conversions.
The quality of the Localize re-engaged buyer is much better. We did not think you could reactivate as many of our leads as you do weekly.

Daniel Eivasov
CEO, Metropolitan Brokers
Solution
Localize meaningfully engaged with leads in real-time using a Natural Language Processing engine and robust real estate knowledge database that provided an unmatched solution.
Result
Metropolitan achieved conversion of disengaged leads by 12x the industry average and an overall improvement in the quality of their buying experience.
Solution Application
12 X The Industry Average